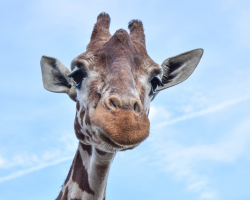 Gift Giraffe Encounter
£30.00
COVID19 Update
Thank you for supporting the zoo at this time, this means a great deal to us as providing care for our animals, whilst closed, incurs considerable costs.
As the office is currently closed, we have set up an automated gift voucher for you to add the recipient's name and a personalised message to send directly to them. When the office is able to reopen, we will send an email to the recipient to ask them to book in their date.
Please note, that all our experiences, encounters, adoptions, tickets and memberships will have their validity extended to cover the closure period of the zoo.
The perfect gift for Giraffe lovers. This voucher entitles your friend or relative to go behind the scenes to meet and feed our Giraffes, Genny and Kito.
On completion of your purchase you will receive a barcoded gift receipt and a gift letter via email.
Please note:
Minimum age 6.
All children must be accompanied by an adult.
All accompanying adults must pay to take part in the encounter.
This voucher does not include zoo entry.
Price displayed is the price for each participant